The Virginia-Israel Advisory Board
Taxpayer-Funded Israel Lobbying Inside State Government
Documents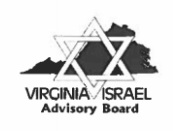 The Virginia-Israel Advisory Board VIAB has one key difference with scores of privately funded state chambers of commerce created to foster closer economic integration between the United States and Israel while supporting the Israeli government's policy agenda. Originally created by an uncodified act in 2001, VIAB has been funded by Commonwealth of Virginia taxpayers. Its charter is to "advise the Governor on ways to improve economic and cultural links between the Commonwealth and the State of Israel, with a focus on the areas of commerce and trade, art and education, and general government." VIAB is a pilot for how Israel can quietly obtain taxpayer funding and official status for networked entities that advance Israel from within key state governments.
According to emails recently released under Virginia's Freedom of Information Act, VIAB's lofty claims of creating Virginia jobs and mutually beneficial business opportunities faced growing skepticism inside the governor's office. VIAB also uses state resources to fight the Boycott, Divestment and Sanctions (BDS) a nonviolent movement to pressure Israel to stop violating Palestinian human rights. VIAB faced intense scrutiny over its handling of funds by the Virginia State Attorney General. VIAB's resistance to public scrutiny led to inside lobbying in early 2018 for more "independence" from the governor. This move sounded alarm bells at another major Israel lobbying organization that VIAB's taxpayer-funded activities—if disclosed—could face public backlash.

VIAB thrived during Virginia governor Terry McAuliffe's administration (2014-2018). Among McAuliffe's most generous out of state campaign contributors were Israel boosters Haim Saban and J.B. Pritzker. McAuliffe was a regular at off-the-record "no press allowed" appearances before Israel advocacy organizations where he was encouraged to talk about "the Virginia Advisory Board and its successes." But internal emails reveal how VIAB chafed under the commonwealth's financial reigns even under McAuliffe, as well as open meeting and sunshine laws. The governor's office became so skeptical about VIAB's operations, VIAB deployed a strategy used for decades by Israel Affinity organizations in crisis such as the Jewish Agency for Israel, the American Israel Public Affairs Committee (AIPAC) and the Zionist Organization of America (ZOA): a complete reconstitution.
The files below were released under the Virginia Freedom of Information Act, 2.2-3704 on July 20, 2018. They are presented in three files, as released. For a selection of individual files with an index, visit the Virginia Coaltition for Human Rights index and material from this FOIA release. See also Meet VIAB: Virginia's Taxpayer-Funded Israel Lobby.
Release #1 of 3 embed. (direct PDF download)
Release #2 of 3 embed.(direct PDF download)
Release #3 of 3 embed. (direct PDF download)