Adolph "Al" Schwimmer
FBI Espionage and Counter Intelligence Files
"These facts indicate that the Israelis may use fictitious business fronts in carrying out their intelligence and related operations...When such firms are discovered, every effort should be made to determine whether they are legitimate business establishments or fronts for covert Israeli operations." - Top Secret FBI - 1951 report 65-HQ-59184 p 90
"...Schwimmer was hired by Bernstein...to purchase transport planes for the Jewish Agency in Israel." 1951 report 65-HQ-59184 p. 101
"...Al Schwimmer advised that they needed $1,500 that day for expenses to pay off the witness..." 1951 report 65-HQ-59184 p. 103
"Following a dispute...concerning his allegiance....advised him [IAI employee] he was never to come to Israel again, that if he divulged any of the information he obtained while working on the Israeli guided missile program, he would be found no matter where he tried to hide and appropriate action would be taken. Source stated he interpreted this as meaning he would be killed." 1970 debriefing of an American IAI employee 105-HQ-205824 p. 7
Documents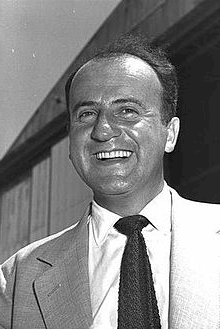 Adolph "Al" Schwimmer was born in Brooklyn, New York in 1917. He worked as a TWA flight engineer before being approached by the untouchable Jewish Agency paymaster Nahum "Ned" Bernstein to acquire aircraft for the fledgling state of Israel. The WWII veteran established front companies to acquire war surplus aircraft and military engines and smuggle them to Palestine. Schwimmer was convicted of violating the U.S. Neutrality Act but received no prison time because the judge believed other, much higher smuggling network figures who had not been indicted, were more to blame.
In 1951 at the invitation of David Ben-Gurion, Schwimmer returned to Israel to establish the state-owned military industrial corporation Israel Aircraft Industries. He led the company for 25 years. In the 1980s Schwimmer joined the Reagan administration's covert Iran-Contra operation as a middle man selling U.S. military equipment to Iran in order to finance the Nicaraguan contras. In 2001 President Bill Clinton pardoned Schwimmer after intense lobbying by the son of another convicted smuggler for Israel, Hank Greenspun. Schwimmer died on June 10, 2011.*
Schwimmer's partial FBI file required multiple appeals and more than three years to release. It reveals the FBI's dawning understanding about how Israeli use of Americans as both front-organization operatives and to provide cover from the top echelons of America's public and private sector would make effective counter-intelligence almost impossible. "...The Israelis may use fictitious business fronts in carrying out their intelligence and related operations...When such firms are discovered, every effort should be made to determine whether they are legitimate business establishments or fronts for covert Israeli operations, " stated one 1951 report. The report was made as the incredible breadth of the Jewish Agency's smuggling network became evident. Paying off witnesses and greasing politicians became part and parcel of "quashing" investigations into Israeli espionage in America.
The FBI file reveals missed counter-intelligence opportunities. Although an American AIA employee, threatened with death for insufficient loyalty to Israel, tipped off the FBI that another American—Ehud Kadish—was involved in Israeli missile development, not until 2008 would the FBI collar "America's second Jonathan Pollard"—brother Ben-Ami Kadish—for missile espionage against America.
Release notes: On 11/30/2011 the FBI acknowledged receipt of IRmep's FOIA request for Schwimmer's FBI file but claimed a month later it could not locate the material. On March 1, 2012 the Justice Department Office of Information Policy ordered the FBI to conduct another search. By August the FBI indicated it had located 554 pages of material. Although most of the following files reveal the FBI declassification was finalized in 2013, the actual release (FOIA release letter) did not occur until 1/28/2015 after additional requests for the material. Some "Other Government Agency" pages are still missing.
File

File Size

Excerpt/Description

2-HQ-2840(SER157X-P3)-Section1Serial157nodescriptionMe.PDF
179 KB
FBI files wire service reports that Al Schwimmer was a known arms supplier to Ferdinand and Imelda Marcos of the Philippines in 1987.
62-HQ-114614(SER20)-Section1Serial20nodescriptionMed.PDF
548 KB
March 3, 1979 postcard to Al Schwimmer, "Do you know the conspirators who have used my name in an international plot to defraud, terrorize and massacre while attempting to hide the facts in the assassination of an American President?" The FBI investigates.
65-HQ-59184(SER3,8,15,40,41,43,58)-Section1Serial1nodescriptionMedi.PDF
5.9 MB

"SECRET" Espionage file: Nahum Bernstein, American treasurer for the Jewish Agency's American Section and three other individuals named as "managers of Israeli intelligence operations in the United States." Bernstein's recruitment into the "Zionist Cause," nodes of the espionage ring, how Bernstein escaped indictment during felony prosecution of smuggler Al Schwimmer et al (1950), material acquisition fronts operated by Rudolph Sonneborn, TNT smuggling by Lands Seas Products, Schwimmer acquisition of C46 aircraft for Land Seas Products, Schwimmer "arms and ammunitions" smuggling to Israel via Mexico.





"He [Bernstein] stated that in the Fall of 1947, it was decided by the [Jewish Agency] policy level members to instigate an organization that could, if Palestine were partitioned, step in and relieve the other governments of considerable effort and manpower...In January, 1950, Adolph W. Schwimmer was tried in the United States District Court, Southern California...The trial involved Adolph W. Schwimmer and five other individuals who were charged with conspiracy to violated the Neutrality Act and the Export Control Act by smuggling aircraft to Israel." (p. 117). Contacts with Mossad founder Reuven Shiloah.

97-HQ-2912(SER603)-Section1Serial603nodescriptionMe.PDF
Schwimmer's purchase of Lockheed Constellation aircraft, false export manifests on combat aircraft engines, seizure by Customs, radio acquisition, prosecutive action.
105-HQ-10828(SER46,36)-Section1Serial1nodescriptionMedi.PDF
November 17, 1949 confidential counterintelligence report on the Israeli embassy, redacted. February 8, 1950 SECRET report on "attempted utilization by Israelis of influential contacts in the U.S...." Size and growth of the Israeli embassy in Washington, profiles of employees, attempts by Israeli government officials to "squash it [Schwimmer smuggling charges] once and forever." Lobbying campaign on President Truman, AG Tom Clark, by Eddie Jacobson, and directed at Louis Johnson, Secretary of Defense.
105-HQ-200741(SER1,4,5)-Section1Serial1, 4,5nodescriptio.PDF
Counter espionage file with content on Al Schwimmer. Content redacted.
105-HQ-205824(SER 2-ENCLP)-Section1Serial2nodescriptionMedi.PDF

Israel Aircraft Industries (IAI) former employee debriefed by FBI about Israeli missile programs. Ahud (Ehud) Kadish, Chief of the Flight Test Group, also described as a dual citizen of the U.S. and Israel. (Brother of convicted spy for Israel Ben-Ami Kadish). Source "heard there was an atomic reactor located at Dimona, but he said he had never been there since admission to this facility was on a need-to-know basis.





"Following a dispute...concerning his allegiance....advised him he was never to come to Israel again, that if he divulged any of the information he obtained while working on the Israeli guided missile program, he would be found no matter where he tried to hide and appropriate action would be taken. Source stated he interpreted this as meaning he would be killed."

211-HQ-26 (SER796,1048)-Section1Serial1nodescriptionMedi.PDF
The Office of Independent Counsel in 1987 asks for FBI assistance in serving subpoenas to Al Schwimmer and other Israelis involved in "selling arms to Iran and may have been involved in diversion of funds as a result of these sales to the Contras in Central America. To date, the Israeli Government has been steadfast in its refusal to make these officials and businessmen available for interviews..."
In accordance with Title 17 U.S.C. Section 107, this material is presented without profit for research and educational purposes, most importantly understanding how government functions during law enforcement actions involving Israel and its lobbyists. The Israel Lobby Archive has no affiliation whatsoever with the originator of the content. It is not endorsed or sponsored by the originator.