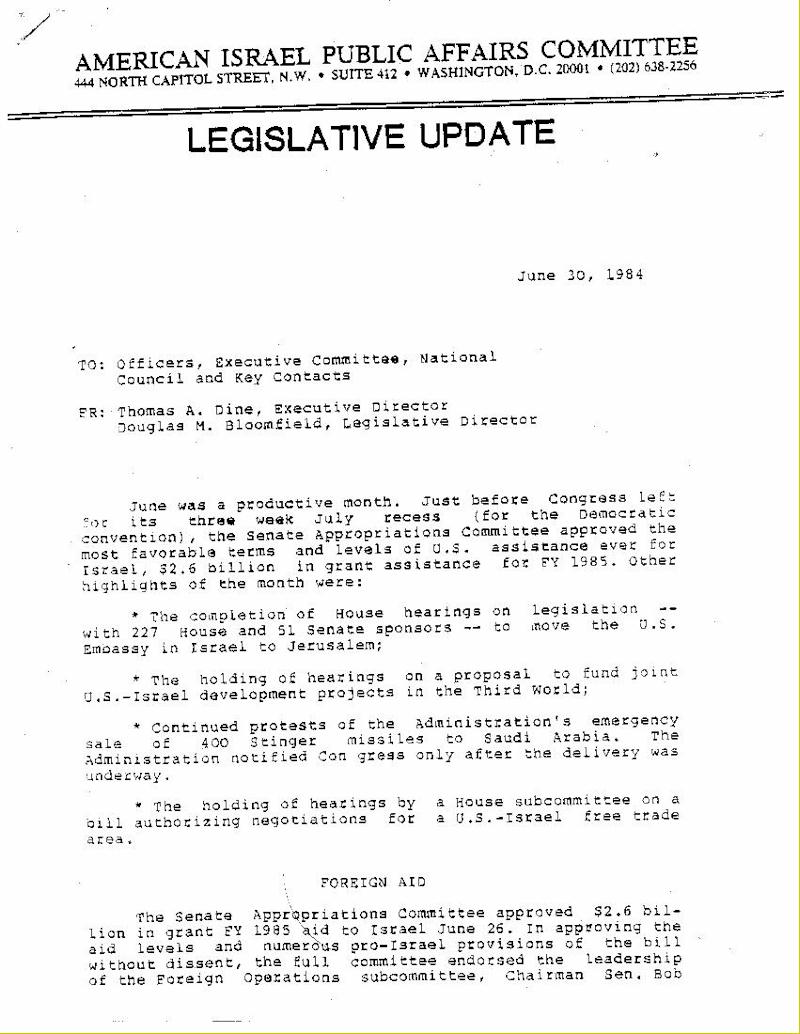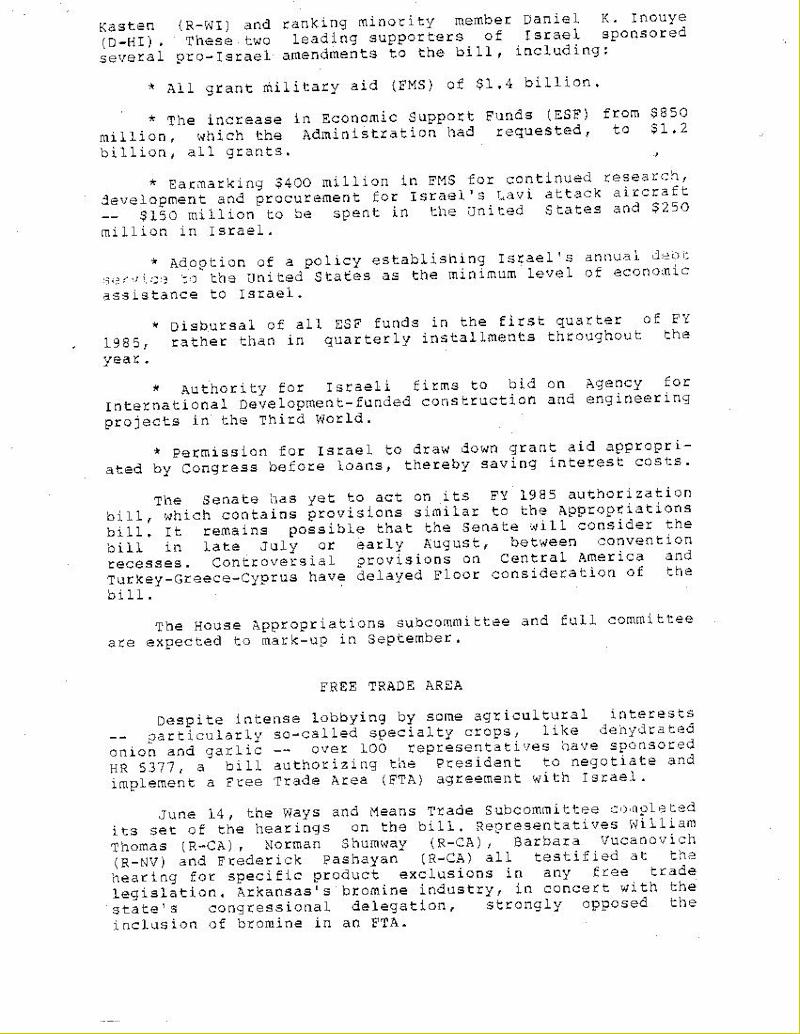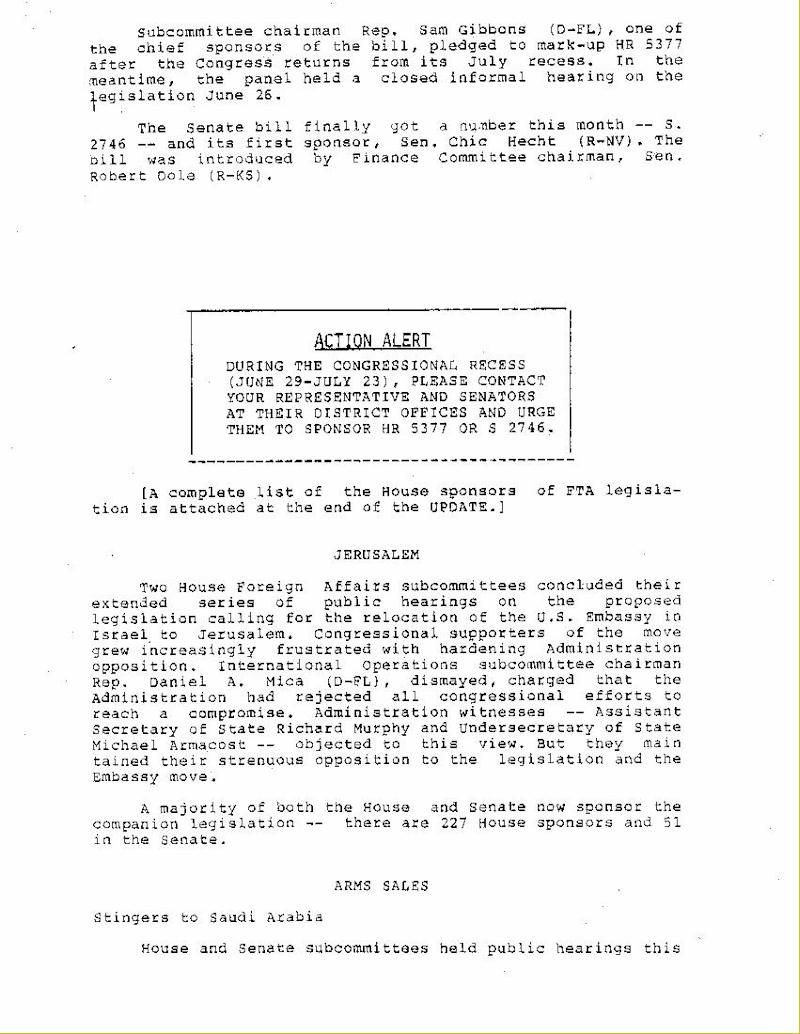 back to The US-Israel Free Trade Agreement
Text Version
AMERICAN ISRAEL PUBLIC AFFAIRS COMMITTEE
444 NORTH CAPITOL STREET, NW. • SUITE 412 • WASHINGTON. D.C 20001 • (202) 638-2256

LEGISLATIVE UPDATE

June 30, 1984

TO: Officers, Executive Committee, National Council and Key Contacts

FR: Thomas A. Dine, Executive Director
Douglas M. Bloomfield, Legislative Director

June was a productive month. Just before Congress Left for its three week July recess (for the Democratic
convention), the Senate Appropriations Committee approved the nost favorable terms and levels of U.S. assistance ever for Israe, $2.6 billion in grant assistance for FY 198S. Other highlights of the month were:

* The completion of House hearings on Legislation--with 227 house and 51 Senate sponsors —— to move the U.S. Embassy in Israel to Jerusalem;

* The holding of hearings on a proposal to fund joint U.S—Israel development projects in the Third world;

* Continued protests of the Administration's emergency sale of 400 stinger missiles to Saudi Arabia. The Administration notified Congress only after the delivery was underway.

* The holding of hearings by a House subcommittee on a bill authorizing negotiations for a U.S.—Israel free trade area.


FOREIGN AID

The Senate ApprQpriations Committee approved $2.6 billion in grant FY 1985 aid to Israel June 26. In approving the aid levels and numerous pro—Israel provisions of the bill without dissent, the full, committee endorsed the leadership
of the Foreign operations subcommittee, Chairman Sen. Bob Kasten R—WI) and ranking minority member Daniel K. Inouye (D—HI). These two leading supporters of Israel sponsored several pro—Israel amendments to the bill, including:

* All grant military aid (EMS) of $1.4 billion.

* The increase in Economic Support Funds (ES?) from $850 million, which the Administration had requested, to $1.2
billion, all grants.

* Earmarking $400 million in ENIS for continued research, development and procurement for Israel's Lavi attack aircraft—— $150 million to be spent in the United States and $250 million in Israel.

* Adoption of a policy establishing Israel's annual debt service to the United States as the minimum level of economic assistance to Israel.

* Disbursal of all ESE funds in the first quarter of FY 1985, rather than in quarterly installments throughout the year.

* Authority for Israeli firms to bid on Agency for International Development—funded construction and engineering projects in the Third world.

* Permission for Israel to draw down grant aid appropriated by Congress before loans, thereby saving interest costs.

The Senate has yet to act on its F! 1985 authorization bill, which contains provisions similar to the Appropriations bill. It remains possible that the Senate will consider the bilk in late July or early August, between convention recesses. Controversial provisions on Central America and Turkey_Greece—Cyprus have delayed Floor consideration of the bill.

The House Appropriations subcommittee and full committee are expected to mark—up in September.


FREE TRADE AREA

Despite intense lobbying by some agricultural interests—— particularly so—called specialty crops, like dehydrated onion and garlic —— over 100 representatives have sponsored HR 5377, a bill authorizing the President to negotiate and implement a Free Trade Area (FTA) agreement with Israel.

June 14, the ways and Means Trade Subcommittee completed its set of the hearings on the bill. Representatives William Thomas (R—CA) Norman Shumway KR—CA) Barbara Vucanovich (H—NV) and Frederick Pashayan (R—CA) all testified at the hearing for specific product exclusions in any tree trade legislation. Arkansas bromine industry, in concert with the states congressional delegation. strongly opposed the inclusion of bromine in an FTA.

Subcommittee chairman Rep. Sam Gibbons (D—FL) , one of the chief sponsors of the bill, pledged to mark—up HR 5377 after the Congress returns from its July recess. In the meantime, the panel. held a closed informal hearing on the legislation June 26.

The senate bill finally got a number this month —— S.2746 —— and its first sponsor, Sen. Chic Kecht R—NV) . The bill was introduced by Finance Committee chairman, Sen. Robert Dale (R—KS)

ACTION ALERT
DURING THE CONGRESSIONAL~ RECESS
(JUNE 29—JULY 23), PLEASE CONTACT
YOUR REPRESENTATIVE AND SENATORS
AT THEIR DISTRICT OFFICES AND URGE
THEM TO SPONSOR HR 5377 OR S 2746.

[A complete list of the House sponsors of ETA legislation is attached at the end of the UPDATE.]


JERUSALEM

Two House Foreign Affairs subcommittees concluded their extended series of public hearings on the proposed
legislation calling for the relocation of the U.S. Embassy in Israel to Jerusalem. Congressional supporters of the move grew increasingly frustrated with hardening Administration opposition. International operations subcommittee chairman Rep. Daniel A. Mica (D—FL) dismayed, charged that the Administration had rejected all congressional efforts to reach a compromise. Administration witnesses —— Assistant Secretary of State Richard Murphy and Undersecretary of State Michael Armacost —— objected to this view. But they main tamed their strenuous opposition to the legislation and the Embassy move.

A majority of bath the House and Senate now sponsor the companion legislation —— there are 227 House sponsors and 51 in the Senate.